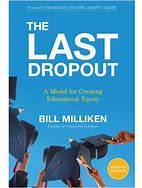 The Last Dropout
Milliken, Bill. (2022). The Last Dropout. – A Model for Creating Educational Equity. U.S.: Hay House.
I remember my first teaching contract at South High School in Minneapolis.  It was a new school, and we had many wrap around services.  I remember a full time nurse. Doctors and dentists would volunteer time to be at the school once a week, and legal services were available.  The name of the school was South High Community School.  A community education director was onsite with a staff who operated from 3:00 – 9:00 pm.
After decades of cuts to education and diversion to test scores versus learning to learn, Millikan, and the Communities in Schools return to an important function.  They are, or can be, the community's center for the future.  I applaud Bill Milliken and the committed professionals that work in the CIS system.
Here are the essential principles that will keep young people in school and prepare them for successful lives:
Programs don't change kids – relationships do.
The dropout crisis isn't just an education issue.
Young people need the five real basics, not just the three R's.
The community must weave a safety net around its children in a manner that's personal, accountable, and coordinated.
Every community needs a "Champion for Children": a neutral third party with "magic eyes" to see things and people differently, and coordinate and broker the diverse community resources into the schools on behalf of young people and families.
Educators and policy makers can't do it alone and they will welcome your help.
Curing the dropout epidemic will demand change, not just charity.
Scalability, sustainability, and evidence-based strategies are essential to creating permanent change in the way our education system combats the dropout epidemic.
Our child needs three things from you: your awareness, your advocacy and your action.
This is a book that presents a model for achieving education equity and preventing students from dropping out of school. Once students dropout, and some even come to school while mentally dropping out, we have no influence.  Relationships and relevance give a reason to be connected to school. The book emphasizes the importance of building relationships and a strong community support system to address the challenges faced by students, particularly those from disadvantaged backgrounds.  The key principles outlined in the book include:
Shift from "Youth Problem" to "Adult Problem". The book highlights that the dropout crisis is not solely a result of student behavior but is indicative of a failure in the adult community to provide necessary support and resources. The responsibility lies with adults, including parents and community members, to create a safety net that helps children thrive.
Importance of Relationships. The author emphasizes that programs alone cannot change students' lives; meaningful relationships with caring adults are essential for positive development. Programs should create an environment conducive to building such relationships.
Beyond Education.  The dropout crisis is not solely an education issue but reflects the broader failure of adults to create a supportive community that meets students' needs. This requires collaboration among schools, government, businesses, faith communities, and other stakeholders.
Five Real Basics for Students. The book introduces the concept of the "Five Real Basics," which includes a one-on-one relationship with a caring adult, a safe learning environment, a healthy start and future, marketable skills, and opportunities to give back to the community.
Community Involvement. Communities should work together to provide holistic support for students. A "Champion for Children" acts as a neutral intermediary to coordinate and integrate various resources into schools to benefit students and families.
Change Demands Action. The book emphasizes the need for systemic change rather than just offering charity. Scalability, sustainability, and evidence-based strategies are crucial to combating the dropout epidemic effectively.
Role of Advocacy and Action.  The author urges individuals to move beyond awareness and take concrete actions in advocating for change, whether through volunteer work, policy advocacy, or financial support.
Decentralization and Collaboration.  The book advocates for decentralization of efforts and collaborative approaches. Different sectors, including education, private sector, faith communities, government, professionals, parents, and students, must come together to address the dropout crisis.
Trust and Patience.  Building trust and fostering communication are vital components of successful community efforts. Patience and a long-term commitment are necessary for achieving meaningful change.
Addressing Poverty and Equity. The book underscores the importance of addressing underlying issues of poverty and social justice as fundamental steps towards educational equity.
In conclusion: "The Last Dropout" offers a comprehensive framework for promoting educational equity by prioritizing relationships, community collaboration, and systemic change. It emphasizes the collective responsibility of adults to create an environment where all students have an opportunity to succeed and thrive.
Suggestion:  Investigate if "Communities in Schools" program exists in your community.  Contact them.  If it doesn't exist, inquire via the internet to see how you might become a contributor.
As I said when I was appointed as principal of an alternative learning site, "the students are giving us one more chance."  Let's make the most of it.